Emergency Dental Care
At Carrera Dental and Braces we accept Walk-in Emergency Dental Patients during business hours. Emergency Dental Care can consist of a limited dental exam and digital dental x-rays so our dentist can diagnose the correct treatment to relieve dental pain. Some reasons for dental pain can be:
Tooth or Gum Infection

Tooth Decay

Injury or Trauma

Tooth Loss or Extraction
Some common dental emergency symptoms are :
Pain with chewing

Hot or cold sensitivity

Bleeding or discharge from around a tooth or gums

Swelling around a tooth or swelling of your jaw

Injury or trauma to the area
In order for our dental professional to diagnose your dental emergency treatment you will need to tell them the symptoms you have had. Then they will cross examine you to determine the best treatment. Toothaches or jaw pain signifies a problem that must be cared for by a dentist.
A referral to a dentist for follow-up may be arranged. The doctor may try an injection around the tooth for pain control. If there is swelling in the gums or face, or you have fever, antibiotics may be prescribed.
The dentist may prescribe

fillings

, tooth extraction, or other procedures that may be performed as required. A tooth extraction will be the most likely dental procedure with a primary (baby) tooth. On permanent teeth, if the problem is severe, root canal therapy (cleaning out the nerves and blood vessels and sealing off the root canals of the tooth) and crown procedures may be performed.

An antibiotic will usually be prescribed if a fever or swelling of the jaw is present. With pain and infection being cared for immediately, such procedures are generally done in stages. Dental reconstructive procedures will be diagnosed to be performed at a later date and time. You will be able to return to work or school while you recover.
To schedule an appointment for today for a Emergency Dental Visit please contact our team at Carrera Dental and Braces.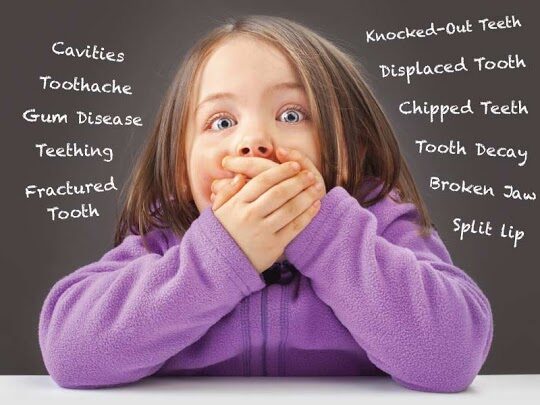 Carrera Dental and Braces
5803 Lyons Avenue
Houston, Texas 77027
P: 832-778-7200
F: 832-925-7555
Email: Manager@CarreraDental.com
Office Hours
Sunday: Closed
Monday: Closed
Tuesday: 11:00 am- 7:00 pm
Wednesday: 11:00 am - 7:00 pm
Thursday: 11:00 am- 7:00 pm
Friday: 11:00 am- 7:00 pm
Saturday: 10:00 am- 7:00 pm
Copyright © 2023 Carrera Dental and Braces. All rights reserved